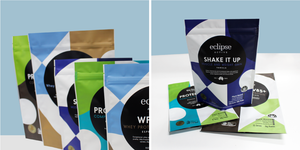 5 Benefits of Using Stand Up Pouches
In response to changing consumer demand more companies are ditching traditional, rigid packaging in favour of lightweight and flexible packaging – with stand up pouches gaining much prominence.
With a greater focus on sustainability, producers are also creating new recyclable and compostable materials that will be dominant in the marketplace within the next 2-5 years.
There are many benefits to stand up pouches. Some of the most important are the fact they can help increase sales, reduce manufacturing and transport costs, and raise shelf awareness in retail stores.
Furthermore, according the Flexible Packaging Market Size Report from Grand View Research, consumers prefer packaging that is light and aesthetically appealing over the competition. As a result, there's a real economic incentive for businesses to make the switch.
Here are 5 other reasons why the use of stand up pouches make good business sense.
1. Stand out on the shelf
Stand up pouches are naturally designed to stand on their own and face customers. When combined with colourful and attention-grabbing graphics, it's nearly impossible for such products not to stand out.
Also, since stand up pouches are easy to stack on shelves, they're more likely to be handled with care by retail staff and properly displayed on the shelf. This is in stark contrast to more rigid packaging, which is often displayed sideways or vertically to save on space.
For even greater shelf presence, include a display window on the front. These windows give customers a glimpse of the contents inside, which has been shown to boost sales by 40 percent. You can also choose from a variety of window shapes like round, square, or triangle, making it easy to give your product a unique look that truly stands out.
 2. Reduced manufacturing costs:
In comparison to rigid boxes and folding cartons, the cost to manufacture an equal amount of stand up pouches is roughly 4 to 5 times less.
How? Because flexible packaging is much thinner and requires less raw materials than those found in rigid cartons, cans or glass bottles. Furthermore, transportation costs are less due to reduced packaging weight to product ratios.
So if you're looking to reduce your manufacturing and delivery costs, then consider the benefits of using stand up pouches.
 3. Extremely versatile:
Stand up pouches are one of the most versatile types of packaging.
They can be used to store a variety of food types and be used for multiple processing requirements. Some notable examples include dried fruit, cereals, baking ingredients (i.e. flour, semolina), chips, confectionary, protein powders and supplements to name a few. Of course, this is barely scratching the surface.
You can create a pouch with a variety of features, from tear notches, hang-holes and zipper closures for re-sealability.
4. Super convenient:
From a customer's perspective, stand up pouches are a godsend.
Why? Because pouches are lightweight, easy to transport, and resistant to punctures/breakage. So they can undergo greater transportation and handling stresses without product damage or stock losses.
This makes it very easy for your consumers to take pouched goods on the go and not worry. The addition of resealable zip-locks also allow for repeated used over a longer period of time and maintains product freshness with ease.
Fresher for longer:
Stand up pouches are specially designed to offer product protection against light, moisture and oxygen. This enables the contents inside to stay fresher for longer and maintain the highest level of flavour, reducing the cost of repeat manufacturing and increasing customer satisfaction.
Utilising different films and flexible packaging technologies, you can ensure the highest levels of production and brand protection through the use of stand up pouch!
Want to learn more? Find out how the benefits of stand up pouches can help your business today.
Talk to the experts at The Pouch Shop.
Fill in the online form
or call (03) 5280 8110.
---