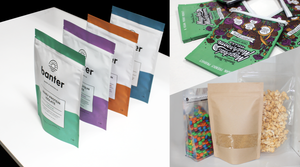 WELCOME TO THE POUCH SHOP
OFF THE SHELF POUCHES
Mock-ups
Recyclable & Compostable Packaging
Packaging Design
Digital Printing
THE POUCH SHOP - FOOD PACKAGING SUPPLIES
We pride ourselves on providing both small and medium-size Australian businesses with quality food packaging solutions.
Whether you're after unprinted, ready-to-label pouches to begin your product journey, or have grown your brand to the point of needing custom printed pouches for multiple designs, we have the solution to suit you.
See our online shop for Stand-Up Pouches, Flat Bottom Bags, Coffee Bags, and more. 
Or, take a look at our Short Run Digital page to find out more about our Aussie made, digital print packaging options.
We're Australian owned & operated, and based in Melbourne, VIC. 
STAND OUT ON THE SHELF WITH CUSTOM FOOD PACKAGING
THAT REFLECTS YOUR BRAND
Packaging is important. You only have once chance to leave a strong impression on your customers in an ever-competitive marketplace. That's why you need to invest in quality food packaging solutions that ensure your product is:
INSTANTLY RECOGNISABLE – Especially when your product is surrounded by other competitors on the shelf.
FRESH AND FLAVOURSOME - Air and moisture alters the quality of your food product over time. By using reputable packaging, you not only extend the shelf life of your products, but also produce less waste, and allow your customers to store their food for longer – resulting in higher satisfaction levels.
EASY TO FILL, SEAL, AND OPEN – The easier it is to pack and seal your product, the more time you'll save on production that can be put back into your business in other ways. Making it easy for your food pouches to be accessed by your customers is equally as important, as difficult packaging can stop a consumer from re-purchasing.
CONSISTENT WITH BRANDING – Differences in packaging design and manufacturing across products lines can be highly damaging to your brand.
OPTIMALLY SIZED – Many brand-owners make the mistake of using the wrong size or packaging format. This ultimately leads to both financial and material waste, as it take up more space to deliver and place on the shelf, while making your product look unappealing. Size does matter!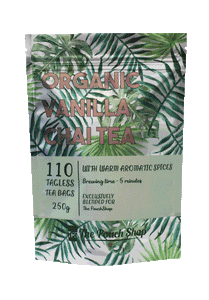 CUSTOM DIGITAL PRINT POUCH GALLERY
FLAT BOTTOM BAGS
Easy to stand, fill, seal and reseal, our best-selling Flat Bottom Bag range brings you modern packaging convenience and style with a wide range of colours, styles and window options. Whether it be baked goods, snacks, coffee, muesli or more, you can draw customer attention while utilising packing and shelf space with a Flat Bottom Bag.
SHOP NOW
COFFEE BAGS
Preserve the freshness of your coffee for longer with our extensive range of coffee bag packaging. With de-gas valve options available, our coffee bags have a high barrier layer to ensure your coffee tastes as good as the packaging looks.
SHOP NOW
STAND UP POUCHES
Our favourite packaging format- choose from a range of Stand Up Pouches to suit your needs, perfect for confectionery, cereals, coffee, powders and anything in between! We can also custom print these type of pouches from orders as small as 5000 – without the set-up costs of traditional print packaging. See our Short Run Digital Print Packaging section for more details and to arrange a quote.
SHOP NOW
NEED SAMPLES?
Whether you're after unprinted pouches, or want custom digital printing, we can arrange for a set of relevant samples to be sent out to you in no time.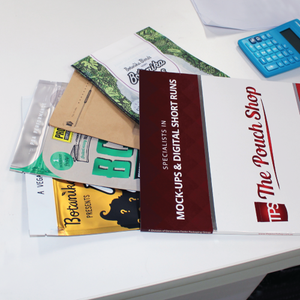 Subscribe to our newsletter
Promotions, new products and sales. Directly to your inbox.