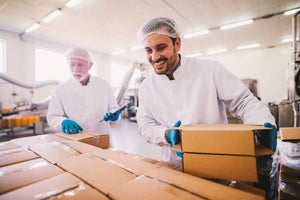 The Crucial Role Food Grade Packaging Plays

What is Food Grade Packaging?
Over 5 million Australians are treated for food poisoning related issues each year. This has left consumers and regulatory bodies alike wondering how contamination occurs.
One of the most common culprits is where and how food products are packaged. Businesses need to take the necessary precautions to reduce the risk; and one way to effectively do that is to source food packaging supplies from manufacturers who comply with all the standards.
For small to medium-sized businesses across Australia, The Pouch Shop can supply all your safe food grade packaging needs.
Why is food grade packaging important?
Food grade bags for food packaging are important because they are part of keeping food from spoiling, and therefore they have a huge impact on the health and well-being of consumers. Food items manufactured for mass consumption are always in direct contact with people and machines that could transmit bacteria, chemicals, or other contaminants.
Food Grade Packaging Australia
It is crucial for any food business in Australia and New Zealand to know the Food Standards Code. Safety practices and general requirements for the packaging process are clearly outlined. This ensures that no food contamination occurs.  
Characteristics of Food Grade Packaging
Suitable for intended use
The Food Standards Code details specific requirements for surfaces in contact with food, including containers and packaging in which food is processed or stored. They must be:
appropriate for the production of safe and suitable food;
and fit for their intended use.
Safe for regular disinfection
Any surface that comes into contact with food needs to be easily and effectively cleaned and, where necessary, sanitised. Any container or packaging used to store food should be smooth, and free of cracks, chips, crevices, ridges or grooves that could harbour bacteria and obstruct attempts to easily and effectively clean it. Any defects in a food contact surface can allow the build-up of food scraps, and the accumulation of bacteria, which can result in contaminating the food.
Manufactured using suitable materials
Food contact surfaces must be made of materials that will not allow food contamination to occur and are resistant to grease, food particles and water. Containers and packaging should be made with materials that will not allow chemicals to migrate from the packaging into the food, or give the food an unacceptable taste or odour.
How can a food business reduce the risk of contamination?
The code indicates the following actions that business owners can take to ensure the safety of their products to customers:
Use clean, undamaged, food-safe packaging only;
Buy from a reputable source (i.e. The Pouch Shop);
Know the composition of your food and check if the packaging is suitable (ask the supplier or manufacturer for assurance or certification that the material is food-safe);
And check the manufacturer's instructions or symbols to confirm the packaging can take the conditions it will be exposed to, such as freezing, microwaving, or use in dishwashers.
Food Grade Packaging Solutions by The Pouch Shop
If you own a small to medium-sized business in Australia and you are looking for quality packaging, The Pouch Shop has various options that prioritise food safety. We also recognise the importance of branding; which is why we offer customisable options for a wide range of food products, including resealable pouches and coffee bags.
Confectionery & Chocolate Packaging
When you are in the sweets business, you want packaging that looks as good as your products. Our team offers customisable confectionery & chocolate packaging solutions for you. We will ensure that the design encapsulates what your brand is all about while keeping your products safe. 
Jerky Packaging
Packaging for jerky uses a very high oxygen barrier film. This allows the product to be stored for up to a year without making the food unsafe to eat. When it comes to your jerky packaging needs, The Pouch Shop has you covered with a variety of options.
Coffee Packaging
Properly packaging coffee means choosing materials that keep the freshness and aroma. The coffee beans need to be protected from air, light, and moisture. We offer coffee bags that come with resealable enclosures to extend shelf life. 
Dumpling Packaging
We can provide frozen dumpling packaging solutions that strictly follow food safety regulations. We offer high-quality prints that showcase your design and meet your needs as a brand. 
Unsure about a particular material or print? The Pouch Shop team is happy to send you samples to ensure that the manufactured packaging meets your expectations! Get in touch with us today! 
---