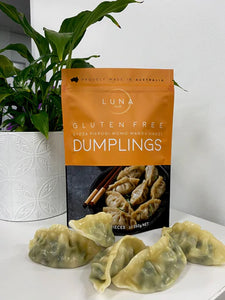 Dumpling Packaging - What You Need To Know
Dumplings are probably one of the most well-known and popular dishes in the world. There's a reason why it's so appealing; it can be eaten at any time of day and comes in different varieties. The popularity of this dish has grown to the point where food manufacturers have identified a market for precooked and frozen dumplings. 
But, with so many options from so many companies, how will you stand out from all the rest? The importance of eye-catching packaging cannot be overstated.
When it comes to the design process of frozen dumpling packaging, you'll need to use materials that can withstand low temperatures and are versatile enough for handling and shipping. Aside from that, labelling and packaging convenience factor into a customer's decision. 
Frozen Dumpling Packaging - What To Consider

In recent years, there has been a rise in global interest in frozen foods. Because the average consumer's lifestyle is becoming increasingly hectic, a frozen option is often the most convenient choice. As a result, the technology used to package frozen goods has advanced. 
The following are some important factors that packaging manufacturers must consider:
Food Safety
Ensuring food safety and quality is a top priority for the frozen food industry. Manufacturers must consider the Ingress Protection (IP) rating system which considers the degree of protection provided by an enclosure. This includes intrusion from foreign bodies like bacteria, dirt, and liquid. 
Food safety risks arise when frozen goods are exposed to heat or light. The vertical form fill seal (VFFS) system is most commonly used to prevent that. It provides the necessary seal, flexibility, and dependability. This will ensure that food safety is maintained throughout the supply chain.
Material Quality
The material used to protect the food products must be of the highest quality. When brainstorming, durability should be considered and prioritised. When food packaging rips or tears easily, the contents are jeopardised. 
The material must also be light, oxygen, and moisture resistant. If the food gets exposed to either of those, the flavour and nutritional value may be compromised. Products are at the peak of freshness when they leave the factory, and using materials that keep food quality until it reaches consumers' homes will go a long way towards increasing consumer and retailer satisfaction.
Marketing
clear stand up pouches with zipper closure
As with any food product, to be successful, it must be packaged in a way that sets it apart from the rest of the competition. This is where package design comes into play. It needs to be eye-catching yet remain user friendly. 
For example, if a company is selling dimsum, they can use transparent frozen dumpling packaging so customers can easily see the contents. To avoid confusion or misunderstanding that could lead to legal problems, the label on the packaging must also include readable and complete information.
Dumpling Packaging Options at The Pouch Shop
The Pouch Shop can provide your business with quality packaging solutions. Our team will work tirelessly to give our clients the packaging that reflects their image as a brand. Here is a list of the products we offer:
Ready-Made Pouches
Check out our most popular pouches! We offer ready made options that are ready for product filling and labelling. We can also add features such as easy tear notches, resealable strips, and plastic film windows. 
Heat Sealers
Securely sealing your plastic bags is critical in product packaging. Doing so prevents contamination, extends product shelf life, and keeps perishable goods fresh. If you need quality, cost-efficient heat sealers, reach out to The Pouch Shop! We are a reputable packaging supplier in Melbourne, Australia trusted for our practical packaging solutions with an affordable price range.
Custom Packaging
If plain bags and pouches look flat or unattractive to you, our short-run custom digital printing solutions are for you! All of our pouches are made from scratch. Custom printed packaging guarantees sizes suited to your products as well as a good representation of your artworks and design.
Most Common Frozen Dumpling Packaging Materials
There are dozens of materials utilised by the packaging industry, each better suited to a specific product. For frozen food products, the packaging needs to have certain preservation and protection qualities in order to be effective. Here is a list of the most common types of materials used:
Aluminium/Metalised Films
Flexible Bags
Plastic Trays
With the competitive scene in the food industry, your company must not only present tasty products, but also package them in a way that entices customers to take them off the shelf and buy them. The Pouch Shop team will ensure the safety and freshness of your products if you entrust us with all of your dumpling packaging needs.
Looking for a trustworthy packaging manufacturer for your business? The Pouch Shop is the one to call. From chocolates to body scrubs, we've got you covered! Call us today and let's collaborate!
---