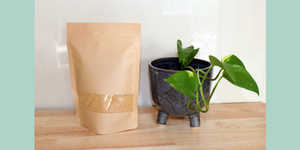 Benefits of Stand Up Pouches for Food Packaging
In order to remain competitive, reduce production costs, and appeal to a more environmentally conscious society, more companies are making the switch to flexible packaging solutions.
Here are just some of the many benefits of using stand up pouches for your food packaging.
Stand up pouches are visually appealing:
Stand up pouches give you the option to really get creative with your packaging design. Unlike a static label, you can personalise the entire pouch from top to sides and back. This enables you to lay out the font, graphics, and colours in a way that reflects your brand and helps you stand out from the crowd.
This way, no matter which way the pouch is displayed, customers will unmistakably recognise your product.
Stand up pouches keep your product fresher for longer:
By fitting out your stand up pouch with a resealable zip lock, up to three layers of protection (so as to keep out moisture, UV light, oxygen, and external odours), and a gusset on the bottom – your products will stay fresher for longer, while giving your customers the freedom to consume at their own pace.
If you're packaging coffee, the inclusion of a degas valve will help release oxygen while preserving the flavour-enhancing gases. Thus, ensuring the beans maintain their freshness and last longer.
Stand up pouches are lightweight and flexible:
Want your customers to enjoy your product on the go? This is one of the greatest benefits of stand up pouches for food packaging.
Flexible packaging is typically made from plastic or paper, which is considerably lighter than glass and cardboard boxes. So, whether your customers are heading to work, on holiday, or just lounging about at home – your customers can enjoy your goods any time they like.
Furthermore, since the packaging is less rigid, it takes up far less space. So it can be stored in small compartments, bags, lockers, and small pantries. Again, even greater convenience for your customers!
Ideal for a variety of products:
Whether you produce confectionary, baking goods, coffee, small toys, or snacks, it doesn't matter. Stand up pouches are flexible enough to store a wide range of products from a variety of industries.
So, even if you currently rely on glass or cardboard packaging, depending on the type of product you sell, there's a good chance you can make the switch to lightweight flexible packaging. You may be surprised at how economical, affordable, and user-friendly your new packaging will be.
Best of all? It doesn't cost you much to do a trial test run.
At The Pouch Shop, we have a low minimum order amount for all our pouches, which enables you to print a variety of test designs and help you decide whether to proceed. This way, you avoid the risk of producing a large batch that doesn't quite meet your needs, thus you save time and money.
The Pouch Shop are the experts when it comes to stand up pouches.
To learn more about the benefits of stand up pouches for food packaging, or to request an obligation-free quote, contact us today.
---