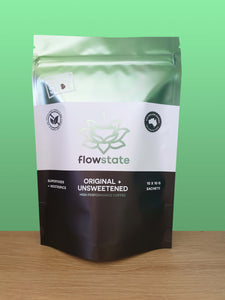 Coffee Packaging Design
Coffee is a beverage enjoyed by millions of people across the world. The average consumer has little consideration for how much thought the manufacturer has put into the coffee label design and other graphic elements.
Australia has a coffee culture that is world-renowned. Coffee is not just a drink there, but it is a way of life. It is the one of very few countries in the world where caffeinated beverage brands like Starbucks don't really matter.
Good coffee packaging matters as much as the quality of the coffee beans. With the sheer amount of competition there is in the coffee industry, your company has to stand out in all aspects.
As a small to medium-sized business owner, this can seem intimidating. How can you market your coffee beans and beverages in a way that will attract the customer's attention in the coffee aisle of the local supermarket? The Pouch Shop's coffee packaging solutions can help.
Coffee Packaging Designs - What You Should Consider
Coffee packaging represents your company's values, tells your brand's story, and keeps your coffee fresh. It is an important part of your marketing strategy because it retains the quality of your product on its journey to your loyal customers. 
Here are some things manufacturers should consider in the design process:
Barrier Properties

Coffee beans are only as good as the materials of its container. It is critical for coffee packaging to be airtight so your coffee stays fresh. A barrier is also required for your packaging. Coffee is extremely sensitive to outside influences. The barrier will keep out oxygen, UV, and other factors that may affect the taste and quality of the beans.
Filling Process and Resealability
Smaller roasters prefer to fill up bags manually or semi-automatically. The coffee bag design can either speed up or slow down the process. The Pouch Shop can offer you packaging options with features to ease the coffee bean filling process.
Coffee packaging design also needs to be consistent. Most packaging loses its airtight qualities as soon as it is opened. Having the ability to reclose the bag significantly helps retain the freshness and quality of the beans.
Coffee Bag Design
Beautiful coffee packaging design can differentiate you from other coffee brands. This is where designers can really showcase their creative ideas. Whether you choose vivid colors or simplistic logo typography, the goal is to create a unique package design that showcases the branding inspiration well.
Coffee Packaging by The Pouch Shop
The way you package your coffee brand makes a huge difference. It has an impact on the response you receive from customers, the ability of the products to seal in flavor and freshness, and your overall bottom line.
For these reasons, you need a coffee pouch that helps you stand out and sends products flying off the shelves. Our coffee packaging at The Pouch Shop keeps your product fresh and promotes a strong shelf presence—whether displayed in a retail store, local café, or kitchen pantry.
Stand Up Kraft Paper Pouches with Zipper Closures
Our stand-up pouch is made of high-quality kraft paper and has a resealable zipper. With an inner layer and a strong shelf presence, the pouch maintains product freshness for a variety of products. It is available in 250g, 500g, and 1kg, and it can be with or without coffee valves.
kraft paper side gusset bag
Side Gusset Coffee Bag with Valve
Our side gusset bag with a valve is the original coffee bag style. It provides easy product filling and offers great space utilisation for delivery. With a matt black finish and metalised interior to ensure a high barrier, this pouch is a cost-effective solution for coffee brand owners.
Flat Bottom Coffee Bag with Front Zipper
Our flat bottom coffee bags is a packaging solution that was made to maximise the space inside while allowing for an easy filling process. It comes with a zipper for resealing purposes.  Matt black and matt white variants are available in 250g and 1kg sizes, with or without a valve.
Frequently Asked Questions
How does the metallised inner layer preserve the freshness of the coffee?
Metallised film is an excellent way to insulate coffee packaging. The layer itself is composed of a polymer film coated with a thin layer of metal. It is lighter and inexpensive yet it provides the same glossy finish as aluminium foil.
Most importantly, it has improved barrier properties, which keep air, moisture, odours, and other contaminants out of the packaging. Metallised film is used to seal a variety of food products such as popcorn, potato chips, dried fruit, and  nuts.
Why should I choose The Pouch Shop for my coffee packaging needs?
The Pouch Shop is proudly Australian-owned and operated, and we are committed to providing our clients with quality packaging solutions as well as genuine service, leveraging on our years of experience and knowledge in the industry to ensure the appropriate packaging solution for your brand.
Our passion is assisting small to medium-sized Australian businesses and food entrepreneurs in getting their products into the ever-competitive marketplace, providing you with the best chances of success.
Of course, what truly distinguishes us from the competition is our individual approach. Our friendly team will be there to guide you and answer any questions you may have along the way, from consultation and quote to manufacturing and delivery.
Looking to purchase packaging solutions for your coffee business? The Pouch Shop can help you out! We can help you with designing and developing processes to produce the perfect coffee bags.
---