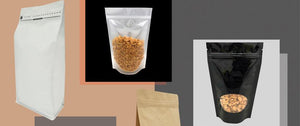 How Food Packaging Plays a Role in Sales
As the first thing customers see – either on the shelf or online – the type of food packaging you choose can make or break a sale.
This isn't just an opinion either.
According to a study conducted by market research company Ipsos, 7 in 10 consumers agree that packaging design can influence their purchasing decision.[1]
This applied to all aspects of the packaging, from the choice of material and colour through to shape, weight, portability, protection, and brand recognition.
For example, the same study revealed 70 percent of respondents felt that paper and cardboard packaging were more innovative, creating the perception of an 'artisanal' or 'handcrafted' quality.
Based on this information, clearly it pays to get your packaging right the first time. But how else does food packaging play a role in sales? Read on to find out.
Brand recognition:
Whether your business is new or established, your branding should be consistent across all communication channels – including your website, social media, print advertisements, television spots, and of course … your packaging.
Failure to do so can confuse your existing customers and make it harder for new customers to try out your product.
For this reason, it's a good idea to establish your brand identity first and implement it into everything you do. This way, when the time comes to create the packaging, you can be confident that your product will be recognisable and easy to spot.
For more advice on how food packaging plays a role in your sales, contact The Pouch Shop today.
Functionality:
Once you grab people's attention, the next thing you need to communicate is: How do people use your product?
Do they unfold the carton to pour out the contents? Rip open the bag and reach in with their hand? Or use the zip-lock function to open and reseal?
Whatever the method is, you must make it clear how customers should interact with your product.
For example, some products with a resealable zipper must be cut across the top first. This is evident by a horizontal dotted line, indicating where you must cut. Once cut, you can access the contents inside and use the zipper to reseal the bag.
Another good way to show people how to open a package is with perforation.
Again, whatever the approach, make sure it's easy to do and relevant to the type of product you're selling. And if you're unsure, a packaging expert can help you choose the right features to include in your product.
Sharing information:
Instructions. Safety guidelines. Tips and tricks. Ingredients. And so much more.
All of this information should be clear, easy to read, and quick to grasp. By doing so, customers will know exactly what your product does, how to use it, and how it benefits them.
Some factors to consider are the size of your text, type of font, paragraph size, position of text, and the hierarchy of information (i.e. what information you want the customer to read first).
You'll also need to consider the tone and use of language. Make sure the content reflects your target audience and speaks to them on a relatable level. This way, you're more likely to make a connection and turn their curiosity into a sale.
Point of difference:
This comes down to how you position your product against the competition.
Is your product cheaper? Healthier? More eco-friendly? Do you use fresher ingredients? Or are you targeting a more specific demographic?
Whatever your point of difference may be, you should communicate it to your customers. Display it loudly and proudly the key differentiators that separate you from the rest. Just make sure your point of difference is relevant to the product, not just different for the sake of it.
For example, if your product is made with eco-friendly materials, you could demonstrate this value with bold text, a beautiful picture of the environment, and make use of 'eco-friendly' colours like green and blue. Of course, you could use a combination of all three for maximum effect.
A packaging expert can take note of your key selling points to give your product a unique identity.
The Pouch Shop specialises in providing quality food packaging for both small and medium-sized Australian businesses.
Whether you're after unprinted pouches, or a custom digital print, we can provide the right packaging solution for you.
Contact us today for FREE advice and a quote.
[1] https://www.globenewswire.com/news-release/2018/05/04/1496881/0/en/New-Survey-Unveils-7-in-10-Consumers-Agree-Packaging-Design-Can-Influence-Purchasing-Decisions.html
---