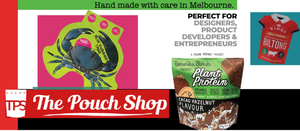 How to Create Food Packaging That Reflects Your Brand
While the main purpose of food packaging is to keep the contents inside fresh, there's a lot more to it than just that.
In reality, the design and construction of your packaging is key to establishing a strong brand identity, one that is instantly recognisable to both new and existing customers, and is also able to help your product stand out from the competition.
But how do you create food packaging that accurately reflects your brand? That depends on your branding strategy, the type of product you're selling, how it's consumed, and your target audience. To help you out, consider these few pointers.
Graphics-
Good graphics convey vital information to customers clearly and plainly, usually with minimal text.
They can be used to emphasise the brands identity, present health or nutritional information, share interesting facts about the products and – in the case of some kid's cereal – entertain.
Examples of useful graphics include mascots, graphs and charts, logos, photographs, drawings and 3D graphics. Combined, these elements can tell a powerful and cohesive story about your product, your business, and your values.
Text-
Text serves a range of purposes. Aside from introducing the name of your product, it also explains to customers the contents of the product, the flavour profile, the ingredients, the health and nutritional information, and the manufacturing process; to name a few.
Choosing the right flow and style of communication is vital to connecting with your audience. The sales copy for a children's cereal would obviously be fun, bright and bubbly, while the copyfor a protein bar would insteadfocus on health and wellbeing.
Text positioning is also important. The most important text should be easy to spot from a distance, enticing the customer to pick up the product and learn more. Other content like nutritional value, cooking instructions and safety considerations should be neatly aligned on the sides and back.
Consider Shelf Suitability-
Which food packaging better reflects your brand and product: flexible or rigid?
Rigid packaging is a popular choice, as it can protect the contents inside yet still retain its shape. So your product will likely show up on store shelves in the same condition as it was when it left the factory or warehouse.
On the other hand, flexible packaging has a number of unique advantages. For starters, it's easily customisable. You can personalise the look and feel of the packaging in many ways. This includes the design, size and shape, placement of text and images, and you can even include a display window; so customers can see what's inside.
Secondly, flexible packaging is ideal for hanging products on hooks. You can include hanging slots near the top. All a store person has to do is grab the product, align it with the 'hook,' and push the slot through the hook, so that it hangs properly.
Lastly, flexible packaging is easy to display on store shelves, thanks to the inclusion of flat bottom stand-up pouches. Plus, when done correctly, the products can be easily bunched together, thus fitting more on the shelf.
Ease of use-
Aside from being visually appealing, your food packaging must be functional. It must be able to maintain its shape and form while in transit until it appears on the store shelves.
Most importantly, the product must be easy to open, consume from, and store. If possible, you should include a resealable tab, so that the product stays fresh – without the customer having to transfer the contents to another container.
Retain Brand Consistency-
If you already have a fairly established brand, then you need to retain the most recognisable elements of that strategy.
Does your company have a pronounced logo? A particular colour scheme? A distinct font? Or perhaps a unique graphic design or writing style that sets you apart? If so, then it's vital that what you communicate to your customers is consistent, so that your message is familiar.
On the other hand, if you plan to launch a new strategy, or a new line-up of unique products, you can then test the waters with a smallproduction batch. From there, you can conduct market testing to gauge people's interest, take on-board their feedback, and make changes so that the final design better achieves your marketing goals.
For more advice on how to createfood packaging that reflects your brand, talk to The Pouch Shop today.
---