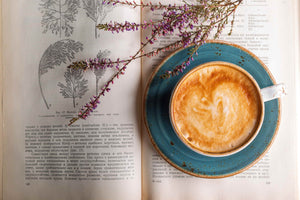 How To Start a Cafe: A Beginners Guide
How To Start A Cafe Business From Scratch 
Are you looking for tips on how to start a cafe? The cafe industry in Australia is booming and opening your own cafe business can be profitable, if you do it right. There's a lot of things you need to know if you're wondering how to start a cafe business. 

According to Statista.com, the annual country-wide revenue from the cafe industry is around 5 billion Australian dollars. A forecasted value of approximately 1.57 billion will add to that in the 2020 financial year. These figures sure make it attractive to start a new business. Here are some pointers to help you get started on planning.
The First Steps In Starting A Cafe Business
1. Do market research on the cafe industry.
The most important step in this process is to understand the ins and outs of the cafe industry. Starting a cafe entails a lot of learning. And a good way to learn how to start a cafe is to ask people who are already successful in it.
Get to know cafe business owners and gather information that will bring your vision to life. Seek their advice on how to get started. This way, you can also scope out the competition and figure out how you can do better. 
Find out what works and what doesn't in making

good coffee

. 

Find out where they

source

their best

coffee beans.

Find out who their other suppliers are.

Consider what you like from other

cafes

and if you want something similar, identify your

point of difference

. 

Create a business plan with a working capital good for 3 to 6 months
The fun part: you get to visit lots of cafes, which means lots of coffee and lots of food for you to devour!
2. Come up with a unique concept and branding. 
This is where your creativity plays a huge role.
If you are researching how to start a cafe business, you might already have a concept in mind. Identify your cafe's mission and vision. Think of ways to set your coffee shop apart from other businesses to have a market edge. 
Here are some questions to ask yourself during this phase: 
Is it unique from other

coffee shop

s?

Will I be able to serve

good coffee

, all the time?

Is my food

menu

better than

everything

I've seen?

Do I have a comfortable and trendy space in mind?

Is my

location

accessible to all kinds of

customers

?

Do I know my target market?

Will it make money?
3. Hire design professionals.
Allot some money for design services. Hire an architect and an interior designer if you have no experience in setting up cafes. They can help you execute your ideas and give you the best suppliers for cafe furniture. 
Here are some design and concept tips:
It should be adaptable to all kinds of

customers

, including remote workers

Plan

the

floor plan

in a smart and efficient way. You want the

space

and

seating

to be cozy, roomy, and comfortable. 

Have an attractive display shelf for pastries and other offerings

Provide

tables

wide enough for people to eat and

work

at the same time.
If you are thinking of designing your cafe around a certain theme, make it consistent. From the big things up to the small details, see to it that everything is in place. Your branding is as important as the look of your cafe. A graphic designer can suggest logo studies so you can decide on one.
4. Think about marketing.
A marketing team can help promote your cafe into the proper channels. Online marketing and social media can also play a huge role in the successes of small businesses. A good marketing plan involves online and offline promotion. 
You need to have social media presence. The goal to have your cafe geotagged, posted, and checked into as often as possible. 
5. Create a detailed business plan.
Writing a business plan is tedious, but an absolute necessity if you are researching how to start a cafe. A business plan will guide you through the stages of starting a cafe business. It acts as a manual on how to maintain and grow your business idea.  
A good business plan is hard work but it can set you up for success. Ideally, you should create a plan with a working capital of 3 to 6 months. Your business plan should have the following:
Summary of your business

Your food and beverage concepts

Local market analysis that state your target customers and competitors

Plans to hire a staff and identification of roles

A

marketing plan

and how to execute it

Your

budget

to start the cafe and where the

money

is coming from. 

Financial projections (profit and loss, cash flow)

Location

and lease details
6. Find a good location that offers the best deal. 
Knowing how to start a cafe will be useless without a proper location. This will be essential to your cafe's success. Spend some time in the areas you are thinking of putting your cafe in. Learn about the other coffee shops in the area, and find out what kind of demographic is present in the location.
Here are some things to consider when finding a location for your cafe: 
Examine the foot traffic

Find out parking rules and access 

Learn what the local community likes

Understand the terms and conditions of the lease
You will spend a lot of time in your new cafe, and it's only right that you pick a location that ticks a lot of positive boxes. Don't hesitate to consult a lawyer for assistance on lease terms. Before signing any contract, make sure the terms will benefit your cafe's profitability.
7. Understand and study your customer base.
Once you have set up your cafe, it's time to study your regular customers. Observing their buying behaviour is important. You can improve your menu based on what they like. They will recommend your shop to their friends if they always get what they want, and if the service is good.
Ask your customers to fill out short surveys to find out the following:
What are their needs?

What time of the day do they usually come?

What do they order the most?

What kind of

food

do they like eating?

Do they come to eat, or

work

?

Do

residents

in the area, and from nearby areas, come often?
8. Come up with an irresistible menu and provide good customer service. 
If you really want to know how to start a cafe, then master how to make the best cup of coffee in town. The reality is, coffee drinkers are demanding and discriminating. They will only return to a cafe if the coffee is worth coming back for. 
Here are some tips on
menu items
and value-added products/services:
Source the best roasted beans

Invest on good coffee machine, and other coffee equipment

Serve a wide

range

of delectable

food

and fresh pastries

Offer vegan and vegetarian options

Offer crowd favorites like teas and chai lattes

Serve other kinds of

coffee drinks

like frappuccinos, and flavored

coffee

Sell your dry coffee using effective and attractive

coffee packaging

Serve unique offerings that sets your

shop

apart from others

Provide loyalty cards for

regular customers

Choose a reliable Wi-Fi provider for your

shop
9. Hire competent staff.
The
hospitality industry
is always subject to customer review and your staff is your cafe's representation. Hire people who are always willing to learn and improve your business. Look for versatility and
strength
in each person. You want your staff to be swift and never miss
orders
. 
Hiring hardworking staff has huge benefits:
It will spread favorable

word of mouth

from your customers. 

People

will keep on coming back if you have a good barista
How To Start A Cafe 101: Additional Tips
1.  Try out your cafe concept in pop ups
Community markets and pop ups benefit small cafe business owners. It gives a chance to put their products onto a wider market and can set the stage for future plans. 
Get your products, such as your coffee and specialty snacks, ready for purchase. There are cheap options for food packaging in Melbourne, and all across Australia. 
This is a great way to test out the consumer response to your coffee and food. This way, you can also determine if you're up for a high-pressure working environment. 
2.  Find the best suppliers: Support local coffee farms and small-time food entrepreneurs


Visit coffee farms near your area. Australia is a country rich in coffee and sourcing local products will help uplift the local coffee economy. You can also strike deals with home bakers for special offerings in your cafe. Display their products on stand up pouches in the cafe, or on the register for better visibility. 
This is a great way to ensure that you are helping small businesses in a way while working on your own venture.

3.  Practice consistency.

Your cafe will be the town favorite if you are consistent in serving quality coffee and food. 
We cannot stress enough how important consistency is.
Keep in mind
to never settle and only send out
cups of coffee
and other
menu items
that you can be proud of. Conduct
hospitality
training for your staff on a regular basis and assure high-quality service.
More questions on how to start a cafe business?
The
planning
process of starting a new cafe is daunting, but your hard work will pay off! Just wait 'til you see it on your
grand opening
!
Keep up with the sector and get only the best products, including packaging materials from The Pouch Shop, for your coffee venture. Let us know what you think! Hopefully, these tips and pointers helped answer your question on
how to start a cafe
. 
---