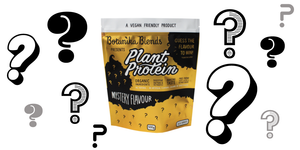 Solve your packaging mystery with short-run digital printing!
When our customer Botanika Blends had the idea to launch a 'Guess the Flavour' competition, we realised the potential for digital printing to allow for small- range marketing promotions and limited editions.
Utilising the short run capabilities of digital, along with Botanika Blends' design and a metalised film, we were able to create an eye-catching gold pouch! The allure of winning the cash prize was easily presented to consumers direct from the retail shelf with an amazing effect.
It wasn't the first time we'd been able to create a quality packaging solution for a customer who didn't need large product quantities, and certainly didn't want to pay the set-up costs associated with other printing formats. We created a golden sachet for our customer Before You Speak, which allowed them to run a 'Golden-Ticket' style competition for their coffee product that would have been impossible without digital printing (or at least, incredibly costly!).
Another reason we <3 digital!
---