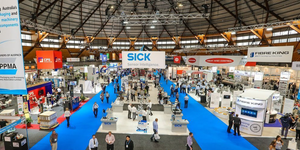 TPS @ AUSPACK 2019! Popular Food Packaging, Pouches, Digital Printing
What a week at Auspack 2019!
Our stand stood out at this year's show, with a huge interest growing in the digital printing space. It was clear to see the volume of smaller businesses whose quality packaging requirements weren't being met due to the lack of low MOQ packaging options in the local market. As the first to market in Australia with digitally printed pouch options, The Pouch Shop is proud to service this gap and help provide solutions and help brands on their journey.
Our recyclable pouches also turned heads at Auspack- so many visitors to the booth were excited for the wide application prospects of our ready-formed pouches that not only service a variety of product categories, but also provide additional brand value to environmentally-conscious businesses (which is a huge bonus to new brands looking to make a name for themselves in the marketplace).

We are already excited for our next show and planning some spectacular new innovations for the short-run packaging sphere (more options? yes please!)

WATCH THIS SPACE!
---