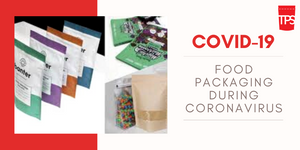 What is the Safest Form of Takeaway Food Packaging During Coronavirus (COVID-19)?
Since the national public health order forced every restaurant and café to restrict operations to pick-up and takeaway, businesses across Australia have been quick to adapt so that they can stay open amid the COVID-19 pandemic.
However, with more people having takeaway delivered to their home, this begs the question: can COVID-19 be transmitted through food and the packaging itself?
The good news is, there's no evidence of transmission of COVID-19 through food or food packaging. Still, complying restaurants and cafes are being advised to take the necessary precautions. This way, they can prevent the risk of contamination, plus ensure the health and safety of their staff and customers.
One way to achieve this is to choose the safest form of food takeaway packaging for coronavirus protection. In this article, you'll learn about the pros and cons of existing takeaway packaging, and how alternative packaging may benefit your restaurant or café in this uncertain time.
What's popular right now
For several decades now, rigid packaging has been the most popular form of takeaway packaging. Some examples of this include:
Chip cups
Snack boxes
Cardboard food trays
Hamburger clams
Foil containers and trays
There are many good reasons why the fast food industry favours this style of packaging.
For starters, they help keep food secure. For instance, hamburger clams help to restrict movement and ensure the ingredients stay intact.
Secondly, they're easy to take with you on-the-go to either consume or reheat later.
Thirdly, venues can implement their unique brand onto the packaging, making it stand out and easy to recognise.
Finally, most rigid packaging like plastic, cardboard, and foam can be recycled, so they're a bit eco-friendly.
Yet, despite these benefits, there are downsides to using rigid packaging in times of COVID-19.
Understanding the problem
Research has shown coronaviruses can survive on surfaces for between a few hours and up to several days – depending on the type of surface, climate, and other factors.
Worryingly, some experiments have indicated coronavirus can survive on cardboard for up to 24 hours, and plastic for up to three days.
When you consider most rigid packaging is made of cardboard and/or plastic, there's a risk coronavirus could survive on these surfaces for long enough to infect staff and/or customers. Fortunately, as of yet there are no reports of COVID-19 transmission through food takeaway packaging.
But there's another problem. Not all restaurants and cafes sell food that is suitable for rigid packaging and delivery. These include high-end food producers, specialty stores, and artisanal delis. Many of these places sell specialty food products that is is harder to secure and deliver to a customer in the best possible condition.
Fortunately, there is a safe, secure, and cost-effective way to store and deliver specialty food product to your customers – flexible packaging.
Flexible packaging can help
Flexible pouches come in a range of shapes and sizes so they're ideal for storing a variety of food products – including soups, curries, ramen, rice, noodles, pastas, breakfast, grains/muesli, salads, and more.
Due to their lightweight nature flexible pouches are easy to take on the go by storing in a backpack, handbag, or by hand. Also, the zip-lock feature allows customers to eat at their own pace, without the risk of food spoiling early. Plus, they really stand out when displayed on a store shelf or café counter.
Most importantly, when manufactured with paper, flexible pouches present the lowest possible risk of COVID-19 contamination. Thus, ensuring the health and safety of not just your employees but the general public.
For advice on choosing the safest takeaway packaging for coronavirus protection, contact The Pouch Shop today.
---