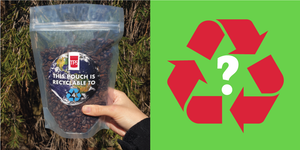 SUSTAINABLE PACKAGING- Frequently asked questions.
Which products are suitable for this recyclable packaging?
Our recyclable film has a moderate barrier to oxygen and moisture, but is currently only available in a clear pouch. Most shelf-stable products are generally suitable for our recyclable pouches.
What do the recycling numbers mean?
You've probably noticed that many products have a number from 1- 7 inside the recycling symbol printed on the packaging. These numbers are categories of different materials commonly used for packaging, and help us determine which items we can recycle.
Which number are The Pouch Shop recyclable pouches?
Our pouches are made from low-density polyethylene (Pe), which is the number 4 category. This means they are a monopolymer and easily recycled compared to mixed plastics.
Is the zipper closure also recyclable?
You bet! The entire pouch (including the zipper) is recyclable.
Will this pouch seal the same as my current pouches?
A small temperature adjustment may be required for recyclable film, but a typical heat sealer will definitely seal these pouches (we sell these in our online store, too!).
What range do you offer in recyclable pouches?
We currently offer the Stand- Up Pouch in recyclable material in three sizes, however we're also working on a viable flat-bottom bag (so watch this space!).
Can these pouches have a metallised finish?
Due to the nature of metallised films, we cannot supply a fully recyclable metallised pouch... yet.
Do you have any technical information available on your pouches?
Sure! Shoot us an email for further information regarding our recyclable pouches- we'll explain the nitty-gritty details.
---