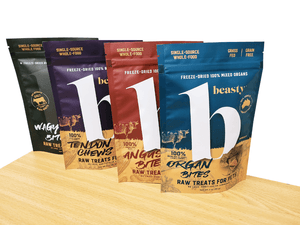 Qualities of A Pet Food Supplier You Can Trust
What To Look For in a Pet Food Supplier
According to studies, what we feed our pets has a significant impact on their health and life span. Pet owners are becoming more aware of the importance of pure and high-quality ingredients in pet food products for the health and well-being of their cats and dogs. When deciding what to feed your pets, the first thing you should do is seek veterinary advice because they are the ones who know what is best for your pets.
It can be difficult to decide which products to buy because there is such a wide variety to choose from in the pet industry. This is why you need a pet food supplier who provides high-quality pet food that tastes good and can keep your pets happy and healthy.
Safety & Suitability
When it comes to choosing food for your pet, food safety is crucial. For instance, adult dog food should not be fed to puppies; and at times, different breeds of dogs and cats can only have certain foods.  Also, high sodium concentration can  be harmful to your pets.
Check all the ingredients to make sure your pet is not allergic to anything. Large food particles can become lodged in the esophagus of some pets, preventing them from eating. You should never compromise on food safety.
Quality Packaging
A good pet food supplier takes their time in selecting the best packaging options. It must have barrier properties that keep moisture out while also protecting the pet products from temperature changes that might cause spoilage. Colourful graphics and premium finishes will also entice pet owners to pick up products off the shelf and thus increase sales.
Quality Control
A legitimate pet food supplier should be able to summarise their quality control procedures and showcase the product's standards. A standard quality product is one that separates raw ingredients from cooked artifacts during the manufacturing process to prevent cross-contamination.
Ingredient contamination from pathogens and/or allergens necessitates strict and careful ingredient control. Companies that prioritise food safety frequently re-examine the product and wait for the results before releasing it to retail outlets.
Affordable Prices
As the cost of pet food continues to rise, pet food suppliers must find ways to make it more accessible to people. We know consumers believe that if a product is expensive, it is of higher quality. This cognitive bias encourages pet food companies and marketing departments to create a variety of premium foods with "luxury ingredients" and charge higher prices.
Unfortunately, you do not always get what you pay for. You should not be persuaded solely by price tags; good quality food does not have to be the most expensive in the store. Read the ingredients then decide for yourself whether the cost is justified.
Advice From Professionals 
It is critical that someone with a specialised background participates in the pet food development programme. Experts should also be available to answer questions about pet food and dietary needs, whether it be through e-mail or hotline. Its biggest benefit is that pet owners will be able to get answers from knowledgeable and credible sources.
Pet Food Association Industry Australia (PFIAA)
The Pet Food Industry Association of Australia was established in September 1972 to promote standards of excellence in the pet food industry in Australia.
The mission of the association is to promote standards of excellence in the development of the pet food industry through:
consideration of the needs of pets and the community;

active promotion of the benefits of responsible pet ownership; and

promotion of prepared pet food as the preferred method of pet nutrition and reinforced through the establishment and self-regulation of industry standards.
The PFIAA continues to work closely with federal and state government departments and relevant stakeholders on issues of importance to the pet food industry, including pet food safety and pet health.
Cat and Dog Food Ingredients
Ingredients in pet food may be selected to perform a function within the formulation as well as for nutrition. They could aid in digestion, contribute to the taste, or provide texture and structure to the product.
The Australian Standard 
A pet food additive is defined in the standard as 'any component of a pet food not normally consumed as a pet food ingredient', which affects the characteristics of pet food.t. It includes a pre-mix, which consists purely  of pet food additive components, micro-organisms, enzymes, acidity regulators, trace elements, vitamins and preservatives, colouring agents, binders, dust suppressants, carriers, flavours and other products that fall within the scope of this definition depending on the purpose of use and method of administration.
All additives used in a product must be included in the ingredient list of the product. Food additives shall be either: proprietary; prescribed; common name; include the applicable FSANZ Food standards code number; or have the following class names:
Antioxidants

Flavours

Humectants

Preservatives

Vitamins

Colours

Food acids

Minerals

Stabilisers

Emulsifiers

Gelling Agents

Mineral Salts

Thickeners
Pet Food Packaging by The Pouch Shop
As a pet food supplier, you want to guarantee that the packaging you use keeps the treats as fresh as possible for pets all over Australia. We understand that packaging for dog/cat treats must be made of high-quality materials that not only keep the products fresh but are also user-friendly. Let our team supply you with high-quality solutions that will ensure the safety of your products from manufacturing until delivery.
Frequently Asked Questions
What is raw pet food?
As pet owners become more discerning about the dog food or cat food they purchase, raw pet food has seen a rise in popularity. It is not just raw meat; these pet supplies include fruits and vegetables as well as bones.
Shinier coats, smaller stools, and increased energy levels are a few compelling reasons for some dog and cat breeds to switch to a raw food diet, with some claiming that this was their natural diet before they were domesticated.
These are the most common foods in a raw diet:
Muscle meat

Whole or ground bones

Organ meat

Raw eggs

A dairy product like yogurt

Fresh fruits and vegetables
Are there raw pet food suppliers in Australia?
Yes! As pet owners recognise the benefits of a raw food diet, an increasing number of raw pet food suppliers now service the market. Here is a list of the top suppliers in the market right now:
Have more questions about our packaging solutions? Check out our website or contact us! We hope you enjoy our packaging supplies as much as the businesses for whom we have provided solutions across the country!
---